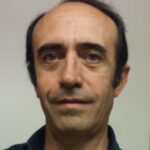 J.Ángel Velázquez Iturbide
Universidad Rey Juan Carlos
Escuela Técnica Superior de Ingeniería Informática
Departamento de Lenguajes y Sistemas Informáticos I
C/ Tulipán s/n, 28933 Móstoles, Madrid, Spain
Office phone: +34 91 664 74 54
Fax: +34 91 488 85 30
Email: angel.velazquez@urjc.es
---
I am a Professor (Catedrático de Universidad) and head of the Department of Computing Languages and Systems I at the Universidad Rey Juan Carlos. I also am the head of the LITE research group (Laboratory of Information Technologies in Education) and Chairman of the ADIE research association (Asociación para el Desarrollo de la Informática Educativa). I received my "Licenciatura" and my PhD in Computer Science from the Universidad Politécnica de Madrid in 1985 and 1990.
Teaching
I have been an instructor of courses on, mainly, programming methodology, programming languages and algorithms. I am currently an instructor in a course on advanced algorithms, of the Degree of Computer Science. You may find two unofficial teaching guides here: on-line, presential.
Research
My main research interests are programming education, software visualization, and educational interactive systems. More information and some current foci of interest:
The LITE research group.
Selected publications can be found at DBLP, the ACM DL or Google Academic.
The iProg research grant, aimed at teaching and learning programing at different educational levels.
The SRec system, an animation system of recursion.
Affiliations
Last Updated May 2016, J. Ángel Velázquez-Iturbide